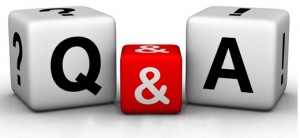 The Brisbane SEO Meetup group kicked off 2012 with "roundtable" Question and Answer Session – which gave attendees the opportunity to raise any SEO related questions they wished, and have them discussed amongst the group.
Because we had nearly 30 Attendees, we split into three separate groups and discussed questions which had been pre-submitted by members (as a part of the RSVP process).  SEO, being what it is, there is rarely a definitive "correct" answer to many of these questions, so a round of lively (and sometimes heated) debate and discussion ensued.
I have outlined below my own responses to a selection of the questions discussed.  Whether you agree or disagree with my views, I'd love your feedback, so please feel free to add a comment.  (note: we only publish some of the Q and As here – if you'd like more, then maybe you had better come along to our next meetup).
Q. Because a key part of great SEO is great content – what is the best way to find the perfect balance between inbuilt SEO and great content (i.e. time spent on each).
Balance is the key to this question, because the optimisation strategies used will vary depending on the niche, the competition, and the keywords being targeted.  The strategies used should also change depending on the market, the
"stage" the business is at and what competitors are doing.  Here is a quick outline for what I believe helps get a good balance :
Set in place Analytics (so you can start to monitor and measure)
Undertake a Keyword Analysis (to determine which keywords are

likely

to be the best ones to optimise for)
Ensure that SEO Fundamentals are in place (i.e. the site is search engine friendly and is structurally sound – from an SEO perspective)
Generate Quality, Unique, Keyword Rich, USEFUL content
Undertake Link Building
Review Analytics
Determine optimisation priorities and strategies and implement
Repeat steps 4-7
Q. I am new to SEO techniques and am struggling to create an efficient list of meta keywords for my online business and for my small business in eBay.  How can I promote SEO for my online business?
Understanding Keywords is critical to good SEO – after all it is these keywords that people use in search to (hopefully) find your products and services. Any SEO campaign should start with a Keyword Analysis (see the Keyword Analysis Tools section of  Our 30 Favourite SEO Tools post).  A Keyword Analysis needs to try and identify the keyword phrases that are most likely to generate sales/enquiries, and typically you would start with high volume keywords, then once you have some data (about which keywords result in conversions) this should be fine tuned for high converting keyword phrases.
I'm glad that you brought up your eBay store. Many people might consider that there is no point SEOing an eBay store – I disagree.  Although eBay imposes lots of constraints over the structure/layout of your eBay store, and you are limited as to what On page SEO tweaks you can do – understanding which keywords to use in your product titles and descriptions, and Off Page strategies such as link building, can both give you an edge over your eBay competitors.
Q. What tools can we use to find out if our SEO efforts are working
One of the fabulous things about SEO is that because of all the stats and metrics available, it is usually possible to monitor and measure the effectiveness of SEO activities.  Initially you may consider Rank Monitoring Tools, or Analytics to look for traffic volumes, however, you need to consider what you are actually trying to achieve.
Although increased rankings and traffic are often on of the outcomes of effective SEO, the ultimate aim in most cases is higher conversion rates – i.e. increased sales or more enquiries.  So the most important measurement is likely to be conversion rates.  Google Analytics, properly configured to track goals and conversions is probably the most useful tool there is for tracking the effectiveness of SEO.
Q. How to setup Google Places properly?
Google Places is relatively easy to setup – but it is also very easy to setup badly.  Also (like many things Google and most things SEO for that matter) the options, features and guidelines seem to change fairly regularly, so what may have been effective several months ago may now no longer apply.  I'd suggest talking to an SEO Pro who specialises in Local SEO.
Q. What impact do you think Social will have on SEO moving forward into 2012?
Google's (and every other search engines) "job" is  to provide the best possible results for any given search query so they use whatever factors they can to help optimise their search results.  They would be mad to ignore social signals, and Social media is undoubtedly already having some impact on rankings and search results.
Social should not be ignored as an SEO strategy, but can take a lot of time and effort to do properly, so unless your niche has strong links to Social Media (i.e. that's where your target market hang out), I think that SEO effort is better spent on more traditional strategies.
Q. Is backlinking the ultimate technique for maximum SEO?
Whilst backlinking is very important – for me, the "ultimate" SEO technique has to be based around content.  If you have thousands of links pointing to crap – what is the point?  Whereas if you have some amazing content (that is interesting, entertaining, educational, controversial, funny or just plain useful) you are likely to get the thousands of links anyway.
Q. As a newbie, what is the most user friendly SEO software compared to what is the most used in the industry?
From a development perspective I think that WordPress wins hands down for Search Engine Friendliness (which is one of the reasons why 24% of new US sites use it).  If you have not heard of WordPress – go do some research, or get yourself some WordPress training or Consulting.
If you are looking for SEO Tools – I suggest that you review Our 30 Favourite SEO Tools post).
Below are some of the other questions raised and discussed at the January Brisbane SEO Meetup, so if you'd like these (or any other SEO question) answered – maybe you should come along to the next Brisbane SEO meetup.
Q. How can you improve your domain authority?
Q. For better Ranking, Traffic & Conversions – out of 100 how what % do you think is On Page, how much is Off Page and how much is Social Media?
Q. How can we get on (or as close as possible to page 1) on Google/Bing for specific keywords
Q. Do you have a general online marketing strategy that you can use for any project?
Q. What influence does Socvial media signals have on SEO?
Q.What pricing structure do SEOs commonly use?